Accurate
Car
Paint
Prep
is
a
Critical
Step
in
Refinishing
A job well begun is half done! Believing in this adage, the car paint technicians at City Center Collision Services ensure that accurate car paint prep lays the foundation for great car paint jobs at our auto paint shop.
This prep work includes:
Removing the trim, grille, and bumpers

Proper seam sealing by our certified techs

Properly applied clear

High-quality primers for lasting repair

Thorough cleaning of the surface to be painted

Sanding of old paint


The car paint technicians at our auto paint shop are committed to maintaining high standards of quality in auto body refinishing.
Beginning with correct car paint prep and ending with factory-like lustrous finish with protective clear coat, we strive to make the car paint job on your vehicle virtually undetectable.
Why
Choose
City
Center
Collision
as
Your
Auto
Paint
Shop?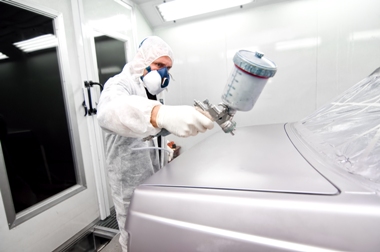 It's simply because of our use of Standox Stando-blu water born paint, proper color match and our constant training for proper prep and application.
With computerized color-matching, spray booths, and certified car paint technicians, our auto paint shop serves you with the finest in car paint services.
We put our experience and expertise to work for you. Some additional reasons you should choose our auto paint shop for all your car paint needs are:
Modern auto paint shop employing the latest car paint technologies

Standox Stando-blu water born paint

Car paint work performed in a clean, contamination-free auto paint shop
Do you need car paint services you can trust at prices you can afford? Contact our auto paint shop, City Center Collision Services, at 253-948-4655.